This article or section is not currently implemented within the game.

This may be because this article or section is taken from the game files, but has not yet been implemented, or may have been removed in a patch.
It may be possible to spawn this npc/creature/item via the admin panel.
If you have further information on this, please note it on this article.
| | |
| --- | --- |
| | This article is about upcoming Conan Exiles updates and features. For Funcom releases and ports, see Funcom#In the pipeline. |
Upcoming features for Conan Exiles.[1][2][3][4]
Focus development areas
[
]
| | | |
| --- | --- | --- |
| " | It is fantastic to see how much you, as a community, care and we want to make sure that you know we are here for you. Your feedback and discussions help us understand your concerns and our improvement potential. It is also a direct inspiration for the focus they are planning to have for Conan Exiles, within the next two months. | " |
| | ~ Tascha[5] | |
Besides fixing general bugs, the following core aspects have been defined, which Funcom partially worked on in the past, as detailed focus categories for the next few patches. They are dedicated to building a strong foundation for Conan Exiles for the next year, improving and expanding on the existing core mechanics before they divide our focus back to fixing AND adding new content. So, do not panic, they are aware that new content is also needed.
These are the things that they are dedicating our full attention to for the next two month (including December) and you should see these being patched out to TestLive in quick succession. They do of course also have new exciting things for you in store but for now the focus is on improving the core aspects of Conan Exiles to build a strong foundation for future additions.
General information comes from earlier threads than below subsections.
The team is currently focusing on bug-fixing, free updates and future DLC production.[citation needed]
DLCs
[
]
Each of these will be a paid cosmetic DLC with a specific theme.
Free updates
[
]
Focus on either retention or acquisition of new (or inactive) players.
Will continue to be rolled out in the coming months.
Examples of free updates are eg. new dungeons.
1 patch every 4-6 weeks
1 possible hotfix within that 4-6 week period if needed.
Patching all platforms as close together as possible, hopefully the same day.
More frequent TestLive updates

Incorporate ongoing bug fixes and testing as needed.

Provides time for
Extensive bug fixing, tweaking and testing

Making sure that a patch is as ready and as stable as it can be.

Taking feedback into consideration.
Part of the developers focus is to refine core mechanics, make exploration more exciting and improve experience as well as the leveling curve. They already have Purge improvement/fixes on TestLive. January and February will see updates where they will gradually deploy more patches to our Test Servers which deal with the following issues, additions and improvements:
More performance updates.
Improvements to AI behavior and controls (section).
Progression balancing from starting experience to end game.Mostly on Live already.
Improvements and additions to make exploration both more dangerous but also more rewarding.
Fixes to UI and Admin Panel.No details available right now.
More Exploit fixes (section)
Building Quality of Life Improvements (section)
More details and info for each of these areas will be revealed as this progresses, including VoIP (section)
"
There are going to be some changes to the newsletters next year. The community newsletters came about as a way for us to improve communication with our players during Early Access. We wanted to give you a glimpse into the development process and summarize the current state of Conan Exiles and its development. It would allow us to share upcoming content and discuss some of the things the dev team had been working on.

How we communicate with the community and the size of the community team, has evolved and grown since the inception of the community newsletters. We feel like the newsletters have served their purpose well, but we have also started using other ways of providing the community with the same information: The Trello Board provides more transparency and insight. We have been working on increasing the number of news updates that go out on the forums and on Steam. We have also been working on being more active on social media to respond to player feedback and issues. As such, We are going to end the newsletters in their current form.

Not to worry though! Even though the newsletters are going away that does not mean we will not stop communicating with you. We will keep you updated about the work We are putting into Conan Exiles. News updates will be posted on the forums, on Steam, Reddit and social media, when available, so keep your eyes posted to our official channels come 2019. We may also start doing monthly recaps, in case there's been a lot going on.

"
~ Jens Erik Vaaler[6]

The Purge is a very important PvE aspect of the game and while it has worked on a technical level, it never really did hit the mark and confused a lot of players. The developers have seen your passion for this mechanic and your critique and reports. They are currently working on several significant improvements coding and design wise.
A number of data-fixes has hit TestLive recently - but there are also code-fixes that will come that will make the purge more stable, coherent and with these fixes we will also introduce a new set of purge admin commands to allow for better control over the purge.
See also: Useful links.
In the past, exploits fixes were made as fast as possible. However in-between additional bug fixes and improvements they could not focus as much as they wanted on this area. They are now setting aside a dedicated period to go over all the remaining reports they could not focus on previously and will address as many as they can.
Some fixes for undermeshing have already gone to TestLive and Live.
The developers have been working on faster loading times and general optimizations for buildings. Conan Exiles has hardly any limits in place for how big you can build and they are especially excited to have you test these improvements.
AI and thrall improvements are one additional, very important aspect. The developers want pets and thralls to feel rewarding. This part will include improvements regarding thrall attack patterns, swimming/moving with thralls, giving you more info what is happening or happened with your thrall/pets and further fixes to thralls falling through floors, to only name a few examples. More importantly they will be working directly with your feedback on additional settings and mechanics for your pets and thralls in the form of defensive and aggressive stances as well as other suggestion they collected from the forums.
See the News and announcements tab for up-to-date TestLive patch ETA
The developers saw your many votes on the Trello board and are actively looking into options of how to improve the issues they have seen reported. This needs some testing and decisions going forward for the different platforms.
More reliable and better quality VOIP
[
]
The biggest difference for players will be increased stability, improved audio quality (nothing can be done about the microphone though) and stereo sound.
The current version of in-game voice chat is peer-to-peer. When you use the in-game voice chat to talk to another person the game client will send the sound of your voice to everyone around your character.
The new VOIP implementation uses a third party service called Vivox. Here is how it works: When using the new in-game voice chat, the sound of your voice is broadcast to a server at Vivox, where it is mixed to the correct audio track and sent to the game clients.
Vivox' server places the audio on a correct track in relation to your character in the game. If the speaker is far away their voice will sound distant. If they're standing to your right, the sound of their voice will mainly come from the right audio channel.
List of upcoming features
[
]
Cancelled features
[
]
If any of the below features will still be implemented, the developers will officially announce it with a dedicated thread. Speculation may be misleading.
Cancelled features are mentioned features which did not make it into the full game.
| | | |
| --- | --- | --- |
| " | Our sorcery system taps into the corruption debuffs that affect your character when they descend into the dark and corrupted places of the Exiled Lands. The more corrupted you are the more powerful your spells can become, but it also comes at a cost. To gain power you are forced to cut into your health and stamina, making your body weaker. The sorcery system will, in turn, give you access to necromancy and summoning rituals, letting you call upon evil, twisted creatures to do your bidding for you. | " |
| | ~ Blog[46] | |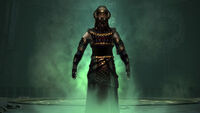 Sorcery was originally supposed to be available in one of the first patches after Early Access of Conan Exiles. This info has since changed, as technical difficulties have arisen.[47]
On September 22, 2020 Scott Junior stated during the developer Q&A stream that sorcery will not be added before or with the Isle of Siptah DLC full launch. He also said they want sorcery to be as good and as true to the Conan lore as possible. Their focus is currently on other upcoming features, however.[48]
List of features
[
]
Sorcery is only partially implemented. Features available to the player currently do not require corruption.
| | | |
| --- | --- | --- |
| " | You'll gain access to summoning rituals. You'll be able to call upon demons to do your bidding. | " |
| | ~ Joel Bylos[49] | |
Summoning rituals are currently implemented in the Religion system.
| | | |
| --- | --- | --- |
| " | You'll be able to shapeshift and take the form of demons. | " |
| | ~ Joel Bylos[49] | |
| | | |
| --- | --- | --- |
| " | You'll be able to craft unique magical items. | " |
| | ~ Joel Bylos[49] | |
Magical items which are implemented for Crafting are:
| | | |
| --- | --- | --- |
| " | Necromancy [...] is the ability to replace your human thralls with skeletal thralls. You'll be able to kill things, bring them back from the dead and then make their skeletons go to work for you. | " |
| | ~ Joel Bylos[49] | |
Necromancy is currently implemented in the Pets system (undead pets).
Notes
[
]
| | | |
| --- | --- | --- |
| " | If or when they add a Sorcery system, it would remain within the lore and be low fantasy. So no flying on a dragon and shooting fireballs in the future for Conan Exiles. | " |
| | ~ Multigun[50] | |
It will not be anything like Skyrim etc.[51] You won't get access to fireball and similar types of combat magic.[

citation needed

][52]
Sorcery in the Hyborian Age takes years of studying moldy tomes and performing dark rituals. Going from a starving exile to a dark sorcerer will take a lot of time.[53]
"
My design for this is based upon the spells and effects found in the stories and should be grounded in the lore. It is more focused on things like necromancy (raising skeletal thralls among other things), demon summoning/transformations and illusions/transmutation. What I don't want is sorcery to be is "your hands are now lightning/ice/flamethrowers". It still might have direct effects - there is absolutely precedent for certain things in the lore.

Like ripping out a man's heart.

He held out his hand as if to receive something and the Turanian cried out sharply like a man in mortal agony. He reeled drunkenly and then, with a splintering of bones, a rending of flesh and muscle and a snapping of mail-links, his breast burst outward with a shower of blood and through the ghastly aperture something red and dripping shot through the air into the Master's outstretched hand, as a bit of steel leaps to the magnet. The Turanian slumped to the floor and lay motionless and the Master laughed and hurled the object to fall before Conan's feet - a still-quivering human heart. - The People of the Black Circle

"
~ Joel Bylos[54]
Possible sorcery features discussed by Joel Bylos on Reddit before sorcery was announced with GDC 2017.
| | | |
| --- | --- | --- |
| " | There will be sorcery in the world, but not necessarily available to players outside of the religion system. | " |
| | ~ Facebook Q&A[55] | |
Originally, sorcery was mostly planned as a religion feature and as part of the lore.
---
The developers can not say anything about sorcery at the moment (February 28, 2020).[56]
"
Funcom has a list of things that we want to explore, the sorcery system is still on that list.

Glaucon said that he knows that Joel would want him to point out that the spider orb is part of a religion and therefore technically not "magic" or "sorcery" any more than the other religious items that are in the game. Religion and sorcery are distinct lore-wise.

"
~ Nicole Vayo; Andy Benditt; Glaucon; Multigun[18]
In the Cursed Sands Discord 3rd birthday developer Q&A event, it was mentioned sorcery is still something they want to explore.
In the developer stream of December 12, 2019, Jens brought up the question of possible "future DLCs, maps, sorcery" with Alex to which Alex asked if people could see his face -for facial expressions- and specifically mentioned the map DLC -which had been hinted at before- and sorcery, both with the comment "we will see". This might hint at sorcery still being a planned feature, as the map DLC has since been confirmed.[57]
| | | |
| --- | --- | --- |
| " | To put it bluntly: Magic is still up in the air. Right now our current focus is finishing and releasing the three remaining dungeons that were on our roadmap. Sorcery is very, very early and we do not even know what it might look like or if it will be implemented at this point. | " |
| | ~ Jens Erik Vaaler[58] | |
"
We started sowing the seeds of sorcery with the release of glass orbs that worked as grenades. Brewing alchemical potions and poisons can also be said to be a kind of sorcery in Conan's world. We're expanding the types of potions you can create using alchemy and you'll also be able to craft special throwable lures to attract specific monsters and creatures.

Sorcery, as initially pitched, will not make it into the game, but some elements will. The fast travel system is teleportation magic, but it doesn't require corruption to fuel it. We have also added explosive and poisonous gas orbs that delivers some of what was planned for the sorcery system.

Ultimately, we were in a situation where we could either focus our development capacity on improving the combat system or splitting up the team to work on combat and a fully realized sorcery system. We chose to focus on combat, as we felt that was a more integral aspect of the Conan experience. It was a very difficult decision to make, but now that the new combat system is almost ready, we feel that it was indeed the right decision and that a more fun, tactical and visceral combat system is something the game really needed.

"
~ Blog[47]
Sorcery was cancelled in February 2018.
Originally, Sorcery was thought to be feasible, but Funcom couldn't find a dedicated FX artist to do their vision justice[61]
| | | |
| --- | --- | --- |
| " | Thralls will see an expansion through the settlement system that adds city life, thrall schedules, barracks, farming and trading. More thrall types will expand what you can do in the Exiled Lands as well as add more life to your cities and downs. Thralls will animate and move around, needing rest when night falls, forcing you to keep abreast on who does what and when. We're also going to be adding a system for rescuing already captured thralls, getting them to come and work for you without needing to break them on the Wheel of Pain. | " |
| | ~ Blog[62] | |
The settlement system is a feature which expands on thralls. It was cancelled in February 2018.[47]
Notes
[
]
Games with similar mechanics, to give an idea of what this feature could be like.
Some siege features did not make it to full launch. They were cancelled in February 2018.[47]
List of features
[
]
| | | |
| --- | --- | --- |
| " | Siege towers are going to be mobile foundations; something you can place on the ground, with wheels and then build upon it in any shape you like. | " |
| | ~ Joel Bylos[49] | |
| | | |
| --- | --- | --- |
| " | The corpse locker [...] is one of those interesting and unique mechanics that sandbox games allow us to make. You'll be able to capture enemies, kill them, drag their corpses into a locker. And then [in] that locker, over time, the corpses will rot and then you'll be able to put those corpses into the Trebuchet and fire them over the walls of your enemies' cities, in order to spread disease and pestilence in the streets. | " |
| | ~ Joel Bylos[49] | |
Notes
[
]
| | | |
| --- | --- | --- |
| " | Similar to the way in which you capture thralls, we would like you to be able to drag players back to your altars and sacrifice them for a massive boost. We might also add specific killing equipment such as iron maidens etc. In addition we really want you to be able to harvest the heads of your foes and stick them on spikes outside and around your bases. Maybe even at some point...castration. | " |
| | ~ Reddit[65] | |
Possible siege features discussed by Joel Bylos on Reddit before the siege system was announced with GDC 2017.
| | | |
| --- | --- | --- |
| " | In early development, the idea was to have [Crom] send a monster after you if you tried to pray to him. | " |
| | ~ Jens Erik[66] | |
This feature was later cancelled. It's possible Crom will get additional features in the future, but this is up to Joel Bylos (Creative Director).
| | | |
| --- | --- | --- |
| " | We had some prototypes of this feature working but unfortunately, it caused too many performance issues for us to go forward with development. Since then, we have added several biomes to the Exiled Lands that wouldn't really work with a sandstorm. Currently, we do not have any plans on implementing the feature. | " |
| | ~ Scott Junior[67] | |
The Sandstorm summoning enemies is a feature which was cancelled due to performance issues during prototyping.
Crossbows were part of Early Access, but did not work as intended with the Combat Revamp update, so they removed them.[68] They can still be found in the DevKit.[69]
There are also several types of Bolts which can be used with the crossbows. These can also be found in the DevKit.
Notes
[
]
"
The game in its current state doesn't really have a concept or system in place where "reloading" exists, which is a key feature necessary for a Crossbow to work. Glaucon said that to properly do Crossbows again, it would take significant effort to adjust the combat system to accommodate the mechanics necessary for them.

While possible to do, this isn't something that has as of yet been prioritized since Bows fill the range combat role already. He said that they don't feel like Crossbows give a compelling enough difference in gameplay when compared to what already exists and the work involved to properly do them justice and support them.

"
~ Glaucon[18]
During the Cursed Sands Discord 3rd birthday developer Q&A event, it was explained why Crossbows did not work as intended.
One of the programmers has tried to create a Linux build for setting up servers. However, there was a problem with the version of Unreal Engine 4 they started on which they never managed to get past.[70]

If you want to set up a dedicated server for Linux, you can use the Dedicated Server Launcher or Wine to do so.
The "PvP Fast", "PvE Fast", "PvP Mayhem", "PvP Blitz" and official server monthly wipes are cancelled features from different phases of Early Access development.
In December 2019, it was mentioned they plan to internally discuss options such as "Official servers that wipe every 30 days with higher rates".[71]
List of features
[
]
"

PvP Fast – Increased Progression. Buildings can only be destroyed during a time window each day.
PvP Mayhem – Fast Progression. Full Building destruction at any time of the day.
PvE Fast – Increased Progression. Buildings and other players can never be attacked.

"
~ Blog[72]
The "PvP Fast" / "PvE Fast" and "PvP Mayhem" server types, introduced in August 2017, were removed at full launch in favour of raid-time restricted PvP servers.

Mayhem servers were also not ping restricted, unlike other server types. This allowed region cross-play. Originally, this might have been the reason they were set up.[73]
| | | |
| --- | --- | --- |
| " | The PvP Blitz servers will provide an accelerated experience, but will reset after 30 days. This ensures that players on PvP Blitz servers will be able to experience everything Conan Exiles has to offer before their progression is reset. | " |
| | ~ Blog[74] | |
| | | |
| --- | --- | --- |
| " | Server wipes every 30 days is to prevent the big player groups from dominating official servers. It also prevents stagnation | " |
| | ~ Twitter[75] | |
| | | |
| --- | --- | --- |
| " | We had "PvP Blitz" servers with increased progression that wiped every 30 days, but they were among our least popular servers. So we settled on the server types we have now. | " |
| | ~ Twitter[76] | |
The "PvP Blitz" server type, introduced in January 2017, was later removed due to low popularity.
Originally, all official servers were planned to have monthly wipes starting with the Early Access launch. This was cancelled due to received feedback from the community and the three server types "PvP", "PvE" and "PvP Blitz" were introduced instead.[77]
Not planned
[
]
If any of the below features will still be implemented, the developers will officially announce it with a dedicated thread. Speculation may be misleading.
Features which were not announced as intended feature for an update -and are currently not planned-.
"
Capes are an absolutely massive performance hog, especially if you enable physics on them (they cause stuttering, other graphical problems, and lag). They haven't been able to find a level of performance and fidelity that they are happy with while working on cape designs. And if you disable the physics, they look really bad. Until or if they find a solution to balance out performance vs making them look good, they won't be able to do capes.

(There are a couple of mods that have capes in them (mods don't have to worry about performance issues, or making them work on console); Warrior Mutator comes to mind.)

"
~ Nicole Vayo; Andy Benditt; Glaucon; Multigun[18]
Capes are currently not planned. They would have to solve some technical issues first before exploring them further.
"
It gets brought up internally from time to time, but there are a couple of contributing factors into the why not. One, it's already fairly possible to do so now (using pillars or foundations) to create a "floating" structure. And second, the Exile lands don't have a lot of water areas. Water based content isn't as high on their list of priorities for that reason. Nils went on to add that it doesn't feel very impactful in terms of creating it for a DLC. If you can only use the content in a few niche places, it doesn't make the DLC as useful as it could be.

Ultimately, Nils answer is maybe if they come up with something really cool that they like, but it's not at the top of the priority list.

Nicole piggy backed on this question with something she see's asked a lot, which is will Funcom ever add boats to the game. Nils answer to this was "unlikely", as it's a lot of resources for something that can't be widely used.

"
~ Nils[78]
Floating buildings are currently not planned, due to various reasons.
References
[
]