Thralls are player-allied NPCs in Conan Exiles. They can be captured and recruited by the player to be used as servants, either working at crafting stations, as companions following the player, or as lookouts guarding buildings.
Identity
[
]
Every NPC capable of becoming a thrall spawns with either a randomized identity, or is pulled from a list of rare named thralls.
Races
[
]
As is the case with characters in Conan Exiles, Thralls are also of various races.
Factions
[
]
The following is a list of Factions that it is possible to capture Thralls from:
Capturing
[
]
Thralls are captured by knocking them out with one of the following items, by depleting the thin white bar above their health:
* Can be used while mounted.
Attach the blunted fittings any of the above Truncheons to decrease the time needed to knock out thralls. Blunted fittings can even be used on tools like
 Stone Hatchet or weapons to achieve knock-outs, though weapons that inflict more regular damage than concussive damage will likely kill a thrall before knocking them out.
Interacting with one of the following items on them makes it possible to drag them, on foot or horseback:
Place them into one of these building (via interaction):
It is possible to swim, but not to climb, or to use a two-handed weapon while dragging a Thrall. Using either options will unequip the bindings and drop the thrall where it was when performing said action. Gruel, or most food, must be placed inside the Wheel of Pain to act as "fuel". Thralls remain unconscious for 10 minutes inside any player's render range when not bound to any kind of bindings - longer when no player is in render range.
Beating an unconscious Thrall with a blunt weapon (Truncheon/Blunted Javelin) will wear down on the thin white bar above their health again. The Thrall will wake up when the white bar has fully recovered, so wearing it down regularly makes the thrall stay unconscious. Though it is worth noting that while the thrall is bound with any kind of binding, the white bar will temporarily stop recovering.
Thrall crafting time
[
]
Thrall crafting time, or the speed at which thralls can be produced, is affected by the level of the thrall itself as well as the level of a Taskmaster assigned to the
 Wheel of Pain. The type of Wheel of Pain has no effect on crafting times; nor does Food type.
In the past, purge-only taskmasters had a better crafting speed bonus than regular named taskmasters, but all T4 taskmasters currently have the same bonus.
No Taskmaster
T1 Taskmaster

+25%

T2 Taskmaster

+50%

T3 Taskmaster

+75%

T4 (named) Taskmaster

+150%

Tier 1
3,900s (1h05m0s)
3,120s (0h52m0s)
2,600s (0h43m20s)
2,229s (0h37m08s)
1,560s (0h26m00s)
Tier 2
11,905s (3h18m25s)
9,524s (2h38m44s)
7,937s (2h12m17s)
6,803s (1h53m23s)
4,762s (1h19m22s)
Tier 3
23,627s (6h33m47s)
18,902s (5h15m02s)
15,744s (4h22m24s)
13,502s (3h45m02s)
9,451s (2h37m31s)
Tier 4 (named)
92,920s (25h48m40s)
74,336s (20h38m56s)
61,946s (17h12m26s)
53,098s (14h44m58s)
37,168s (10h19m28s)
Deploying
[
]
Fighters, Bearers, Archers and Performers can be placed anywhere that isn't within the claim radius of a different clan or which is prohibited by certain landmarks and zone as determined by the game (e.g. Unnamed City). This means a combat thrall can be placed within a base, or even out in the world. To deploy a combat thrall, move it to the hotbar and place it like any other building item.
Thralls can be useful for defending an area against weak, stupid, or disoriented opponents. They are particularly useful in defending a region against NPCs or against other players during a raid. On PvP servers, it is usually a bad idea to leave a combat thrall out in the open, or anywhere a passing enemy might snipe the thrall with their bow. They will still offer protection when placed inside a building structure.
Combat Thralls will attack other players that come within range, but only during raid times (e.g. 5 pm to 11 pm PST on official servers) (Building damage must be set as Thralls are considered buildings, other wise they won't attack players). This does not apply to Official PvE/PvC-servers.
Combat Thrall Attributes & Leveling
[
]
Combat thralls (Fighters, Archers, Bearers and Performers) are placed as level zero and can be leveled to 20 maximum. Experience is gained when your character or the thrall makes a kill and varies with the difficulty of the target. Please note experience is only gained when they are actively following you, not while on guard.
To view the progress of your thrall and determine the effect of feeding on attribute increase probability, use the Stats option (i) by long-pressing the interact key on the targeted thrall.
Thralls level at one of three rates: easy (1x requirement), medium (2x), and hard (3x). To determine which rate applies, please see XP requirements and the section below it.
Thrall starting attributes (strength, agility, vitality, accuracy, and survival) are fixed based on the specific type of thrall: a Cimmerian Berserker will always start with 15 strength and 30 vitality. Total growth chance, summed across all stats, is also fixed for each type of thrall: a Cimmerian Berserker's growth chances will always add to 295%, while Beastmaster Teimos will always add to 356% or 357% (depending on rounding). The distribution of growth chances across each attribute is randomized within a range that's again unique to each source thrall type.
At each level gain, thralls will increase their attributes according to their corresponding growth chances: the listed chance (with any bonuses from food) applies to a +1 gain of a stat point, after which a second check at half the listed value is made for a second +1 gain. A thrall with a 100% growth chance in strength, then, has a 50% chance to gain +1 and 50% chance to gain +2 per level, with a total of 30 points expected over 20 levels. It's theoretically possible for a thrall to gain 40 points in one or even all stats over the course of 20 levels, though the chances of such "perfect rolls" are astronomically low (~1.3 per 100,000 for +40 in a single stat at 100+14% growth).
Additionally, at levels 10, 15 and 20, the thrall is randomly assigned a selection from the pool of Follower Perks that add to (and sometimes subtract from) attributes.
The randomization of initial growth chances, realized per-level attribute growth, and selected follower perks makes for an enormous range of possible outcomes and renders discussion of the "best" thrall somewhat academic. A "worse" thrall with even marginally better luck with attribute growth and perks can easily be significantly better than a "better" thrall that didn't get as lucky with its random chances.
Crafting thralls cannot be placed in the world to become followers and cannot level. They are immediately ready to be assigned to an eligible crafting station and cannot be improved or changed in any way.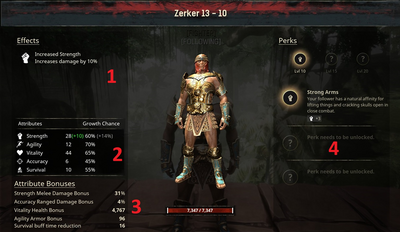 The Effects area shows what buffs and debuffs are on the follower at the present time. Each effect will have a unique icon and description.
The Attributes show the current level for each attribute in the left column, any additional bonuses due to armor, weapon or buffs in green adds to the value; red subtracts. The second column shows the weighted percentage that, upon leveling, each point of several will be added to a base stat. The number of added points is random, but seem to average around 5 per level. In this case, the thrall has been fed gruel which increases the probability of getting each point to strength when attaining a new level.
The Attribute Bonuses area shows the result of the follower's current stats. Be aware there are hidden multipliers to strength and accuracy that do not change with level. These values are unique to individual followers and can be seen below at All Combat Thralls for a list of pure combat thralls. Entertainers and Bearers are in a separate list further down.
Perks are gained when the follower reaches levels 10, 15 and 20. There are quite a few that are available, subject to random selection along with other constraints. This Cimmerian Berserker gained +3 to strength with Strong Arms and added to the armor strength bonus of +7 shows in the Attributes section in green as (+10). A complete list of available perks can be seen at Follower Perks.
Some functions can be accessed remotely if you are not near the thrall you want to manipulate. The tab is called Followers and can be accessed from the Inventory page. Several columns of information are immediately available:
What you have named your thrall, or the default title.
What Class of thrall is it, Fighter, Archer, Bearer or Entertainer (this may include pets/horses). The distinction between Fighter and Archer is still in effect, but there are some Fighters with more Accuracy than Strength and vice versa. So far, the reversal is minimum, but it may signal a trend (opinion).
What state the thrall is in:

Guarding, Following, Scouting or Returning Home

The thrall's current level
Additionally, the following is available:
The ability to show or hide the follower on the map. It's an easy way to locate a lost thrall, by turning off all but the one in question and scouring the map for their icon. Should the follower not be at that location, a server restart may solve the issue. If the thrall's icon is not on the map, check the event log for anything that may have happened to them.
Right-click (or the console equivalent) the thrall for the following:
View the follower stats page as shown above.
Rescue the follower. Be aware the follower will return without gear or inventory but will not lose level, stats pr perks. Not a good option unless all other means have been exhausted, including restarting the game, your computer and allowing time for a server restart.
Break Bond will send the follower off to some nice place, never to be seen again.
Cancel is obvious.
Newly placed thralls are relatively weak and require support from you and, if possible, good armor and weapons to survive. At higher levels, their ability to withstand damage increases and appropriate leveling areas may include the Jungle, Shattered Springs or the Unnamed City to increase experience. At high levels, their ability to withstand damage will exceed yours and make them fine tanks with agro control. Similarly, ranged-leveled thralls, appropriately placed, provide excellent defense for your base.
Feeding
[
]
Thralls don't have to be fed, as they depend on a decay timer. If you do not log in in 15 days they will disappear as shown under Settings:Server Settings:Abandonment (private servers may be adjusted). They will consume preferred food in their inventory for healing when wounded.
Thralls can not die from hunger and will not lose any HP due to lack of food over any period of time.[1]
The foods shown in their inventory screen provide an increased chance to gain various stat points upon leveling; as well as a

Strength buff, visible on their health bar. Usually visible during combat. You can also see their buff on the information screen.
Attribute Growth Chance Buffs and Food Healing
[
]
Feeding thralls specific foods give an increased chance to specific attributes when they gain a level. These buffs do not stack.
Regeneration per second lasts for 10 seconds per piece.
Important note: There is currently a visual-only bug that exclusively affects online games (single-player or co-op works normally), where all healing displays as 5 life per second in the thralls' status windows, but dietary items actually heal for the values listed below.
 Roasted Haunch appears to give no buff to the attribute Survival, as was intended and noted in the devkit.
Most foods, aside from  Cooked Pork Rinds also give a 10% damage buff while  Cooked Pork Rinds provide a 25% damage buff instead.

The 25% damage buff from  Cooked Pork Rinds has superiority over the 10% boost, so you can switch to a more efficient healing food, like  Gruel, after giving them the larger buff.
Thrall Management
[
]
At the top level, this is what you get when you long-press the interact key while targeting your thrall, leading to submenus that set behaviors. These controls persist through logout and server reset. Currently, there is no way to determine where those various controls are set, but we remain hopeful for a future release.
Several items on the wheel are self-evident, such as guard, follow or stop following, cancel. This section will delve into Behavior along with others. You may find the command Stop Following extremely versatile and useful. Break Bond will send the thrall to a peaceful valley, never to be seen again. Their equipment and inventory contents will appear in a loot bag where they stood.
The pair of gears in the lower left opens his inventory, but that can be done with a single interact click.
Tactics
[
]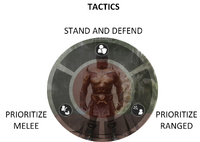 Of the first selection, Tactics is the simplest and has three options:
Stand and Defend allows the thrall to select the weapon of choice based on the range to the target. If the thrall has a bow and a melee weapon and the target is far enough away, they will select the bow; if close, they will pull out an in-your-face weapon. The thrall will not move, but switch to a melee weapon when the enemy gets close.
Selecting Prioritize Melee, the thrall will run towards the opponent.
If Prioritize Ranged is chosen, they will back away to keep the range.

While not well known, there is a minimum distance for ranged weapons; closer than that and the damage falls off drastically.
Engagement
[
]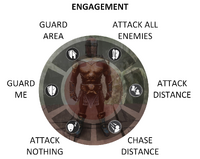 Engagement has several key selections and can be fine-tuned for the situation. Thralls on guard will want different selections than those following. Thralls can be set to guard or attack and the ranges allow fine tuning.
Guard Me makes you the center of the guard area.
Guard Area makes the thrall the center.
Attack All Enemies will make the thrall aggressive to anything within its attack range.
Attack and Chase Distance define the radius of a circle and are covered below.
Attack Nothing is taken literally and is a welcome addition for entertainers; just stand there, we will handle it. Be aware they will not defend themselves.

An interesting use of Attack Nothing is using your follower as a meat shield when trying to get that one thrall knocked down.
The selections are situational but you can find a combination that fits your playstyle and vary it, or not, leaving it preset for any location or fight. There are a few things to stay aware of, though:
Attack All Enemies is good for guarding, not so much for following, depending on the surroundings. If trying to single out and draw targets one or two at a time, this selection will bring more than you anticipated. This can be quite interesting in Sepermeru.
While following, Guard Me is a good choice since the thrall will attack the target(s) that are on you. Guard Area may draw in more enemies if they are in range. Similarly, Attack All Enemies is dangerous since the thrall can bring 3 more to your party of 3, leaving you in a pool of blood.
On guard, however, Attack All Enemies is a good choice, as is Guard Area since you want the thrall to engage anything that gets within range. Guard me is ineffective since you may be at the other end of the base.
Attack and Chase Distance
[
]
Setting the above up, the last two allow you to fine tune the guard and attack area. The scales are the same; the effects are quite different.
Attack applies to the initial engagement and any enemy that wanders into, say, 15 meters, will get their clock cleaned. No bunnies were harmed in testing this.
Chase is how far your guard will continue to attack a fleeing enemy.

There is another use for Chase distance best explained by example:

A guard has an enemy engaged and your follower's chase distance is set to 15 meters.
Your follower will not attack at 16 meters, but will jump into the fray at 14 meters.
While more important on guard, this also affects a following companion. You really do not want your thrall to go running off and leave you partnerless. Similarly, running through the Unnamed City a thrall that runs off to attack something that is of no use to you is, well, useless. Play with the distances and find where you want each one for your playstyle.
Combat
[
]
So, that's setup, but what about while in combat? We now have plenty of options to control the thrall's attention.
With an active thrall, you have the option to long-press the interact key and control their immediate behavior. Caution is advised to avoid using this and the single press option in bushes or too close to keep from picking up greens or a rock instead of issuing a command.
Move will command the thrall to move to the targeted location. If it is too far away from you, they will return to your location. If in combat, they will also return to the enemy, but it's still a good way to bring the enemy to you, especially with others close-by that you do not want to agro yet.
Attack will send your thrall after the target, whether an enemy or a docile critter, like a deer. You must be within a certain range for this command to be effective.
Return tells the thrall to return to you. The same conditions apply as with Move; they will immediately return to combat.
Stop is dangerous since the thrall takes you literally. Not only will the thrall stop where he is, but he will not defend himself. You must 'turn him on' again to fight.
Shortcuts are available and welcome if you have a pack on you!
Singleclick to move if nothing is targeted; attack if something is targeted.
Doubleclick to stop; repeat doubleclick to resume.
Tripleclick to tell your thrall to return to you.
Stop Following is one of the best adds to the follower system and adds a level of control in previously unavailable areas. You can command your thrall to Stop Following in almost any place. Simply command your thrall to Follow to return to the previous state.
Thralls do not get experience for kills while not following
They will not return to their last guard spot unless:

You die.
You log out.
You leave the general area for some period of time.
Under these conditions, the thrall goes into Scouting Mode and will return to their last guard spot after approximately 15 minutes of inactivity.
Stop following is useful in a number of situations, most notably visiting another clan's area (ever been blocked in a doorway?). Sepermeru also comes to mind, as does conversational NPCs.
For other tips and tricks with Stop Following, see Tricks with stop following.
Professions
[
]
Thralls have a variety of uses. Most can be visually identified from a distance by what they are holding, e.g. bow is an archer, sword and shield is a fighter. Thralls placed at a crafting station often provide unique or high-grade recipes.
Subsequent additions of Crafting stations, such as the Fermentation Barrel and the Saddler's Worktable allow placement of some professions with their accompanied bonuses. Visit the various profession or thrall page to see which profession can be useful in a particular Crafting station. As an example:
Artisan Table specific profession usage, crafting bonuses and recipes are shown on the Artisan Table page.
Thrall Crafting Specializations
[
]
All Tier 4 crafters now have a specialization as generally described below. Detailed information is on the profession page, accessed with the header link. For all crafters, expand your chosen profession.
1 Since the effect is a multiplier, the Edgesmith and Fletcher will not have any effect on a weapon with zero armor pen.
Tiers
[
]
Every crafting thrall profession has 4 different levels, or tiers, identified with a I, II, or III at the end of their name, with tier 4 thralls being uniquely named. The exceptions are priests (Priest, High Priest and Archpriest) and Taskmasters from Sepermeru (Journeyman, Apprentice, Master).
Thralls affect crafting speeds, resource requirements and fuel usage when placed at a workstation, depending on their specialization and tier.
Tier 3 and 4 Thralls, when placed at their corresponding workstations, can grant access to additional crafting recipes.
Archer and Fighter thralls will have more health and armor based on their tier. Damage is based on the weapon they use and their corresponding attribute, Accuracy or Strength. Note that with the December, 2019 update, Archers may have higher Strength than Accuracy; Fighters may have higher Accuracy than Strength.
Named thralls (tier 4)
[
]
Tier 4 thralls have unique names. Crafting thralls often provide additional recipes when placed at a crafting station.
The thralls listed below often include the in-game map coordinates where they can spawn.
Alternatively, see Admin Panel for an easy way to view or copy your current location to paste elsewhere.
Purge-only thralls will never have a fixed spawn point.
Named Thralls by Profession
[
]
[[]] indicates data are not available or irrelevant. Blank cells indicate zero or does not apply to the values.
See page or a blank cell under Locations indicates the thrall spawns outside a purge and the thrall's page has all user-recorded locations listed.
---
---
Pure Combat Thralls

[

]

---
---
Alchemists

[

]
---
---
Armorers

[

]
---
---
Bearers

[

]
---
---
Blacksmiths

[

]
---
---
Carpenters

[

]
---
---
Cooks

[

]
---
---
Entertainers

[

]
---
---
Priests

[

]

---
---
Smelters

[

]

---
---
Tanners

[

]
---
---
Taskmasters

[

]

Notes
[
]
A Nordheimer or Cimmerian Priest can only be placed on an altar of Ymir, a Stygian Priest on an altar of Set, etc.
Thralls can be used to defend a base. They can also be placed in the wild to attack hostile enemies (ie. posting an archer tower in the North to help clear an area of wolves).
Drops Human Flesh when killed, with a chance of common loot.
"Thrall patrols" are a requested feature which is not currently planned.[2]
Non-captive Thralls/NPCs
[
]
Merchants
[
]
Merchants
Name
Faction
Race
Gender
Location
Sell
Price
Anzu the Broke
ID: Merchant_M1
Relic Hunters
Hyborian
Male
Sepermeru, City of the Relic Hunters
10  Feathers
1  Silver Coins
Consigner Arphus
ID: Merchant_M4
Relic Hunters
Nordheimer
Male
Sepermeru, City of the Relic Hunters
1  Elephant Hide
5  Gold Coins
Ephremis the Broker
ID: Merchant_M5
Relic Hunters
Shemite
Male
Sepermeru, City of the Relic Hunters
1  Spiced Pork
1  Silver Coins
Essel the Trader
ID: Merchant_Volcano_M1
Votaries of Skelos
unknown
Male
Volcano Obelisk
1  Ice Tea
1  Silver Coins
Handler PutKet'Leon
ID: Merchant_M6
Relic Hunters
Stygian
Male
Sepermeru, City of the Relic Hunters
1  Ice Tea
1  Silver Coins
Handler Thiena
ID: Merchant_F3
Relic Hunters
Nordheimer
Female
Sepermeru, City of the Relic Hunters
1  Honeyed Wine
1  Silver Coins
Hannah the Broker
ID: Merchant_F2
Relic Hunters
Kushite
Female
Sepermeru, City of the Relic Hunters
1  Mystery Meat Soup
1  Silver Coins
Ignatius the Greedy
ID: Merchant_M10
Black Hand
Hyborian
Male
Flotsam
1  Sand Reaper Egg (Pet)
10  Gold Coins
Iliz of the Brood
ID: Merchant_Volcano_M2
Votaries of Skelos
unknown
Male
Volcano The High Way
50  Ice
10  Silver Coins
Koros the Brave
ID: Merchant_M8
Black Hand
Kushite
Male
Flotsam
1  Shoebill Egg (Pet)
10  Gold Coins
Olz Forked-Tongue
ID: Merchant_Volcano_M3
Votaries of Skelos
unknown
Male
Volcano Road of the Righteous
5  Berry Juice
1  Silver Coins
Owen the Beautiful
ID: Merchant_M9
Black Hand
Hyrkanian
Male
Flotsam
1  Spider Egg-sac (Pet)
10  Gold Coins
Retas Metmeg
ID: Merchant_M3
Relic Hunters
Kushite
Male
Sepermeru, City of the Relic Hunters
1  Ale
1  Silver Coins
Shawna the Strange
ID: Merchant_F4
Dogs of the Desert
Stygian
Female
The Den
1  Rocknose Egg (Pet)
10  Gold Coins
Siarra the Haggler
ID: Merchant_F1
Relic Hunters
Hyrkanian
Female
Sepermeru, City of the Relic Hunters
1  Bear Pelt
5  Silver Coins
Urik, Master Tamer
ID: Merchant_M7
Dogs of the Desert
Stygian
Male
The Den
1  Camel Calf (Pet)
10  Gold Coins
Vennor Skinflint
ID: Merchant_M2
Relic Hunters
Hyrkanian
Male
Sepermeru, City of the Relic Hunters
10  Glass Flask
1  Silver Coin
Zeina The Vixen
ID: Zeina
Black Hand
Stygian
Female
Flotsam
1  Spiced Fowl
1 Alchemist
1 Fighter
5  Silver Coin
50  Gold Coins
100  Gold Coins
Others
[
]
Standard NPCs
Name / ID
Storyteller?
Teacher?
Merchant?
Faction
Race
Location
Anzu the Broke
ID: Merchant_M1
Yes
Relic Hunters
Hyborian
Sepermeru, City of the Relic Hunters
The Archivist
ID: Dialogue_The_Archivist
Yes
Teaches - Feat
Yes
Giant-kings
Giant-kings
The Archives
Arcos the Wanderer
ID: Dialogue_Arcos_the_Wanderer
Yes
Teaches - Emote
Exiles
Unknown
The Sentinels
Braga
ID: Dialogue_Braga
Yes
Forgotten Tribe
Cimmerian
Mounds of the Dead
Child of Jhebbal Sag
ID: Dialogue_Child_of_Jhebbal_Sag
Yes
Teaches - Feat
Yes
Child of Jhebbal Sag
Werehyena
Southwest of The Den
Conan
ID: Dialogue_Conan
Yes
Relic Hunters
Cimmerian
Sepermeru, Waterside
Consigner Arphus
ID: Merchant_M4
Yes
Relic Hunters
Nordheimer
Sepermeru, City of the Relic Hunters
Ephremis the Broker
ID: Merchant_M5
Yes
Relic Hunters
Shemite
Sepermeru, City of the Relic Hunters
Essel the Trader
ID: Merchant_Volcano_M1
Yes
Votaries of Skelos
Unknown
Volcano
Gilzan the Treasure Hunter
ID: Dialogue_Gilzan_the_Treasure_Hunter
Yes
Teaches - Emote
Relic Hunters
Unknown
Sepermeru, City of the Relic Hunters
Handler PutKet'Leon
ID: Merchant_M6
Yes
Relic Hunters
Stygian
Sepermeru, City of the Relic Hunters
Handler Thiena
ID: Merchant_F3
Yes
Relic Hunters
Nordheimer
Sepermeru, City of the Relic Hunters
Hannah the Broker
ID: Merchant_F2
Yes
Relic Hunters
Kushite
Sepermeru, City of the Relic Hunters
Ignatius the Greedy
ID: Merchant_M10
Yes
Black Hand
Hyborian
Flotsam
Iliz of the Brood
ID: Merchant_Volcano_M2
Yes
Votaries of Skelos
Unknown
The High Way
Jamila the Pirate Queen
ID: Dialogue_Jamila_the_Pirate_Queen
Yes
Teaches - Emote
Black Hand
Unknown
Pariah's Overwatch
Koros the Brave
ID: Merchant_M8
Yes
Black Hand
Kushite
Flotsam
Mek-kamoses
ID: Dialogue_Mek-kamoses
Yes
Teaches - Religion/Emote
Black Ring
Stygian
Mek-kamoses's Spire
Mountaineer
ID: Dialogue_Mountaineer
Yes
Teaches - Feat
Unknown
Unknown
Fingerfang Rock
Muriela the Artisan
ID: Dialogue_Muriela_the_Artisan
Yes
Teaches - Religion/Emote
Darfari Cannibals
Darfari
Muriela's Hope
Nunu the Cannibal
ID: Dialogue_Nunu_the_Cannibal
Yes
Teaches - Religion/Emote
Darfari Cannibals
Darfari
Shaman's Rise
Olz Forked-Tongue
ID: Merchant_Volcano_M3
Yes
Votaries of Skelos
Unknown
Road of the Righteous
The Outcast
ID: Dialogue_Outcast
Yes
Teaches - Religion
Frost Giants
Frost Giants
The Outcast Camp
Owen the Beautiful
ID: Merchant_M9
Yes
Black Hand
Hyrkanian
Flotsam
Petruso the Sandstorm Maniac
ID: Dialogue_Petruso_the_Sandstorm_Maniac
Yes
Yes
Lemurians
Lemurian
Sandswept Ruins
Razma of Shem
ID: Dialogue_Razma
Yes
Relic Hunters
Shemite
Sepermeru, Southlake
Retas Metmeg
ID: Merchant_M3
Yes
Relic Hunters
Kushite
Sepermeru, City of the Relic Hunters
Shawna the Strange
ID: Merchant_F4
Yes
Dogs of the Desert
Stygian
The Den
Siarra the Haggler
ID: Merchant_F1
Yes
Relic Hunters
Hyrkanian
Sepermeru, City of the Relic Hunters
Urik, Master Tamer
ID: Merchant_M7
Yes
Dogs of the Desert
Stygian
The Den
Vathis the Hierophant
ID: Votaries_Of_Skelos_Sorcerer_Master_Darfari
Yes
Votaries of Skelos
Darfari
Shrine of the Oracle
Vennor Skinflint
ID: Merchant_M2
Yes
Relic Hunters
Hyrkanian
Sepermeru, City of the Relic Hunters
Warmaker Klael
ID: Dialogue_Warmaker_Klael
Yes
Giant-kings
Giant-kings
Citadel of the Triumvirate
Weeba Shamrock
ID: Weeba
Yes
Black Hand
Zamorian
Flotsam
Yakira, Priestess of Derketo
ID: Dialogue_Yakira
Yes
Teaches - Religion
Lemurians
Lemurian
Pagoda of Boundless Lusts
Zeina The Vixen
ID: Zeina
Yes
Black Hand
Stygian
Flotsam
Media
[
]
References
[
]