Star Metal Ore
Both stone and metal from the heavens
Type
Ingredient
Grade
High
Ingredient
Yes
Meltable
Yes
Max Stack
100
Base Weight
0.13
ID
18060
Description
[
]
| | | |
| --- | --- | --- |
| " | This is a grisly thing,' shuddered the clerk. 'It's too ancient to be holy. Who ever saw metal like it in a sane world? It seems less destructible than Aquilonian steel, yet see how it is corroded and eaten away in spots. | " |
| | ~ The God in the Bowl | |
This ore, fallen from the sky, is a gift from the firmament. Put it to your ear and it practically hums with cosmic secrets like the ocean in a seashell.
Notes
[
]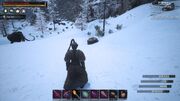 Star Metal Ore can be harvested from meteorites, which will fall in the western region of the Snow biome, just north of the Mounds of the Dead. Cimmerians nearby hint at this, as they use star metal weapons.[1] You will see them trail across the sky and hear their explosive boom as they crash on the mountain ridges.[2] Meteors will destroy player-built structures and kill creatures.
"maximum number (Meteor Shower Max Count) + random number (Meteor Shower Random Amount)"
where the random number is actually a range from which a value is randomly selected. The range in an actual case is -5 to +5, so it can happen that less than the max value (Meteor Shower Max Count) is spawned. This complicates the logic a lot.
The source of the idea for the meteorite feature came from one of the developers, either John or Joel.[3]
Star metal ore and star metal are used as motives in the Conan the Adventurer animated series.
Isle of Siptah
[
]
On the Isle of Siptah, meteors will fall around the tower at the center of the island.
Uses
[
]
Gallery
[
]
A fine map of where meteorites could spawn.[4]

A more rough map of where meteorites could spawn.[5]

Meteors fall between the green lines and mostly south of the red lines. The red lines mark the edges of an extension of the mountain range, Skyfall Ridge.
Media
[
]
References
[
]