Saddle
| | |
| --- | --- |
| | This disambiguation page lists articles associated with the same title. If an internal link referred you here, you may wish to change the link to point directly to the intended article. |

This disambiguation page lists articles associated with the same title. If an internal link referred you here, you may wish to change the link to point directly to the intended article.
A Saddle is a craftable item that allows a Pet to become a Mount.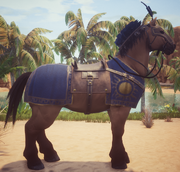 A Saddle is crafted at a Saddler's Worktable, which can be unlocked at Level 20 with the Feat Novice Saddle-maker.
Higher tier saddles may be crafted at Level 40 with the Feat Journeyman Saddle-maker and at Level 60 with the Feat Expert Saddle-maker.
Saddles act as a type of armor for a Mount and will be placed in a separate armor slot in the mount's inventory. Various saddles will each have different effects on the mount's acceleration, speed, defense, and maneuverability. Currently only Horses and Rhinos (Isle of Siptah DLC only) have the ability to equip saddles and become mounts in Conan Exiles.
Horse Saddle Recipes Include:
Six more Horse Saddles may be crafted as part of the Riders of Hyboria DLC:
Three more Horse Saddles may be crafted as part of the Architects of Argos DLC:
Five Rhinoceros Saddles may be crafted as part of the Isle of Siptah DLC:
At the present time (July, 2020):

Armor is a function of the horse, not the saddle, and is 53 for all horses. Damage and armor pen are zero for all saddles.
Pressing the interact button on or near a saddled mount will cause the player to automatically mount the animal and make it a mount type follower, even if the player already currently has a follower. As the game allows the player to have 1 mount and 1 follower, this will no longer cause the previous follower to default into scouting mode at the current location for a length of time before returning to the last location that the follower was placed in the world to stand on guard.