Living Mountain
A Living Mountain, also known as Rocknose King is a creature in Conan Exiles.
The Rocknose King is a Mini Boss. It uses sluggish attacks that can be easily blocked with a shield. Do not get it confused with Rockslide.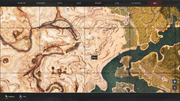 The Rocknose King can be found ontop of a small ledge south-west of Spotter's Squat. Alternatively, see attached location image.