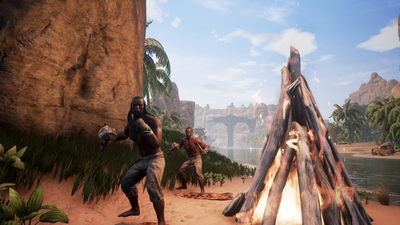 Lore
[
]
| | | |
| --- | --- | --- |
| " | I am not alone here. That was the first revelation that came to me as I crouched, shivering, on the banks of the river. There are others, ragged and broken men and women, who light bonfires and the shores of the river and huddle close together for warmth. Fools. The light draws unfriendly eyes and I would never put myself at such risk. My father taught me that the best way to survive was not to make the mistakes that other people make. Life is not always about choices we make, but about the foolish choices we avoid making. | " |
| | ~ Razma of Shem | |
Description
[
]
Not really a faction per se, the Exiles are small, isolated groups of people who escaped from Crucifixion and have huddled together for survival. Starving, desperate, wielding improvised weapons and wearing little to no armor, Exiles are the weakest human threat in the Exiled Lands. Some of them pray to Mitra and chose to stay in a life of austerity and privations. They patch together plant fibers or rudimentary wraps around their limbs and torso, and use crude weaponry made from stone and sticks.
Notes
[
]
These NPCs are usually in very small groups of 2 to 3. Most crafters tend to have Rank I or II, but with very small odds there is a chance of rare crafters spawning, usually only available through The Purge otherwise or even rare beyond that. A typical example of this would be Grrr Legbiter spawning at Exiles Camp 24, which used to be the only NPC in the game to craft flawless Hyperborean Armor.
Exiles generally have 120 HP with the exception of named NPCs generally having 195 HP. This puts them far below any other faction and they can be dealt with very early on and easily.
Gas and Fire are even more effective than usual due to this, whereas Poison or Bleeding rarely pay off.
They are practically unarmored, which increases raw damage dealt.
Chosen of Asura are a sub-faction of Exile named NPCs, which are a special recognition for outstanding community remembers, awarded by Funcom
Another, much less important sub-faction would be the Worshippers of Mitra at Muriela's Hope, tier 1 only.
Most camps are very small and only contain two or three members, usually one Fighter, one Archer and 1 Worker Thrall
as Thralls, they have
480 HP as Tier 1 or Worshipper of Mitra
720 HP as Tier 2
840 HP as Tier 3
1485 HP as Tier 4
Headquarters
[
]
Camps/Outposts
[
]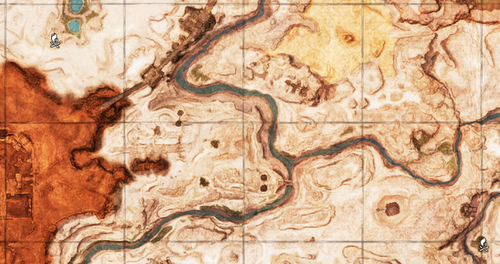 Various unnamed camps along the southern river like:
Wanderer Spawns
[
]
Various T4 Fighter spawns along the southern river like:
Exiles Wanderer Spawn 01 - TeleportPlayer -79767 241523 -20081
Exiles Wanderer Spawn 02 - TeleportPlayer -30384 228689 -19987
Exiles Wanderer Spawn 03 - TeleportPlayer 79050 216742 -19270

Exiles Wanderer Spawn 04

- TeleportPlayer 92931 252276 -18650

Exiles Wanderer Spawn 05

- TeleportPlayer 151606 163109 -20085

Exiles Wanderer Spawn 06

- TeleportPlayer 154720 134560 -19027

Exiles Wanderer Spawn 07

- coming soon.
Wanderer NPCs:
Loot: Can drop items like
Notable NPCs
[
]
Arcos the Wanderer - Story NPC
Muriela the Artisan - Mitra teacher
Mitra Arch Priests

The Purge only
[
]
The Purge only.
Common Loot
[
]
Signature Weapons
[
]
Signature Armor
[
]
Gallery
[
]