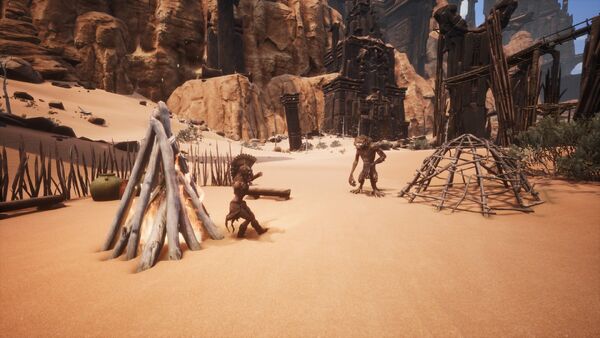 Lore
[
]
| | | |
| --- | --- | --- |
| " | I don't know where they found me, these rough people dressed in the skins of hyenas. [...] There is something very strange going on. Their body language is wrong. I grew up on the streets of Asgulun and I could read the body of a haggling merchant before I could walk. [...] But these people... They remind me of the mangy curs that used to wander the streets, begging for scraps. They stand too close. They sniff at one another. When one of them shouts, the others cower. They are gathering in the old arena among the ruins, howling like hyenas. They are performing some ritual. A naked man is cloaked in blood and some hyena skin. | " |
- Razma of Shem
Description
[
]
The Dogs of the Desert are a tribe of Werehyenas with human followers/thralls. They are clad in Hyena Pelt and Bones or wear simple clothes. Their savage rituals are inspired by and in honor of Jhebbal Sag, the god of the hunt. Their rites are barbaric, albeit providing limited protection or even ailments for the rotten corruption of Acherus.
Notes
[
]
Dogs of the Desert control an area north of the Unamed City and around the eastern Savanna, but also have camps bordering on Black Hand territory in the north-eastern desert area and a big camp at Hand of the Maker, overlooking the central river of the desert. They tend to populate several bigger to medium-sized and a few smaller camps.
This faction provides the Jhebbal Sag priests (usually found at The Den).
Dogs of the desert generally have 315 HP, making them middle of the pack. Named NPCs have 420 HP, which is an unusually large gap (typically it's a 75 HP difference).
Their damage is average, and they usually attack alone or in duos, sometimes groups up to four. They usually present a threat when first met, but due to their relative lack of health and their lackluster damage can be killed fairly quickly and with low risk as soon as the player's equipment gets stronger.
They are however, stronger than Black Hand, Lemurians or Darfari Cannibals.
Their Werehyenas are relatively strong in terms of damage dealt, and have much higher health than their human companions, but only reside at The Den.
Followers of Jhebbal Sag can be considered a sub-faction which much lower health and slightly higher damage output, populating The Midnight Grove.
Their health across converted Thralls Entertainers, Fighters and Archers goes as follows:
Strategy
[
]
due to their pack-like nature, it is often difficult to pull single enemies, making an exit strategy necessary
their high amount of archers make the use of shields, reach and natural cover almost mandatory
killing power works better than survivability, especially outside of The Den: their damage is above average, their health and armor is not
Werehyenas are dangerous enemies, even up until later in the game and should be pulled solo
Headquarters
[
]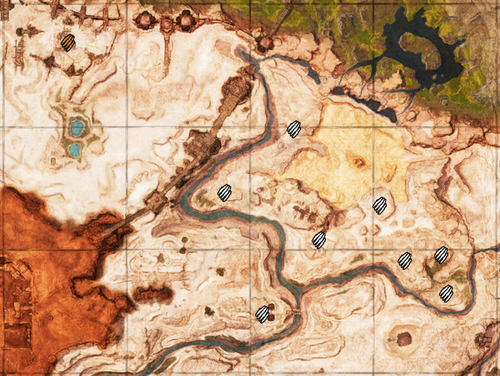 Camps/Outposts
[
]
Notable NPCs
[
]
Child of Jhebbal Sag - Teaches Midnight Alchemist and access to The Midnight Grove

The Purge only: Notable NPCs

[

]
1 data mined, needs Confirmation
Common Loot
[
]
Signature Weapons
[
]
Signature Armor
[
]
Gallery
[
]