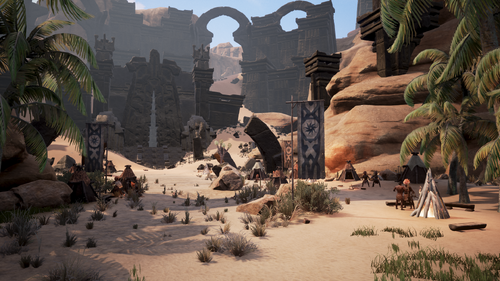 Lore
[
]
| | | |
| --- | --- | --- |
| " | They clubbed me senseless and dragged me back to their camp, thrusting me into a woven cage full of prisoners. They've been dragging us out, one by one, to their sacrifice pits. The screams of the victims fill the air and the scent... my mouth waters and I hate myself. I've seen the bloody sacrifices that Set requires and the corpulent orgies of Derketo, but these brutes with filed teeth and blood running from their chins... I don't like this darkness. It makes my skin crawl. Some of the other prisoners here are from further north. one of them claims to be a Stygian bounty hunter who came here chasing treasure. [...] There's a loose branch in the weaving of this cage. My Stygian friend and I are working it slowly loose and then we will vanish into the night. | " |
Description
[
]
The Darfari cannibals are vicious cannibalistic worshipers of the outer god Yog, which is essentially a demon. They capture humans, ritually sacrifice them to their tentacled god, then feast on the remaining flesh. They are primitives with their camps consisting of tents, spikes, bonfires and red banners made out of human skin. Scouting Mission Notes detail some of their vile operations.
Notes
[
]
When enthralled, these HP for Entertainer, Fighter or Archers values go up to:
Strategy
[
]
Darfari camps usually have a number of archers, which makes utilising shields and cover very useful.
Darfari usually have little armor, so armor penetration plays less of a role than sheer burst damage does. Particularly area damage like Two Handed Swords or One Handed Axes works well against the tightly clustered, bigger groups. Spears are amazing against the archers and low armor of Darfari.
Due to their low hp pool, bleeding and poison is less effective than against higher tier factions, simply due to the fact that Darfari die fast early on.
Armor is particularly effective against the low-damage-per-hit weapons this faction usually uses. This is amplified by the usually high number of enemies per camp/group and the large number of archers.
Headquarters
[
]
Camps/Outposts
[
]
Notable NPCs
[
]
Nunu the Cannibal - Yog Trainer
The Purge only
[
]
Needs further testing / might not spawn yet:
1data mined, needs verification
Common Loot
[
]
Signature Weapons
[
]
Signature Armor
[
]
Gallery
[
]