This article or section contains information that is out-of-date.

Please replace the old information with up to date information.
This may include rewriting sections to ensure they are clear and concise, and wikifying.
Reason: many new recipes - suggest this page just links to the specific workstations instead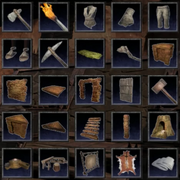 For crafting in Conan Exiles, you need to build Crafting Stations and make sure you have the right recipes and resources.
Hand crafted
[
]
This type of item is crafted directly within the player's inventory, and does not require the use of a crafting station to make.
Consumable
[
]
Ingredient
[
]
Armor
[
]
Misc
[
]
Consumable
[
]
Ingredient
[
]
Tool
[
]
Weapon
[
]
Consumable
[
]
Misc
[
]
Range Weapon
[
]
Consumable
[
]
Ingredient
[
]
Consumable
[
]
Consumable
[
]
Ingredient
[
]
Consumable
[
]
Ingredient
[
]
Consumable
[
]
Ingredient
[
]
Consumable
[
]
Consumable
[
]
Ingredient
[
]
See also
[
]