Conan Exiles/es
Conan Exiles es un juego de rol de supervivencia de mundo abierto desarrollado por Funcom, ambientado en las brutales tierras de Conan el bárbaro y basado en los libros de Robert E. Howard. Los eventos en Conan Exiles tienen lugar en la línea de tiempo de Conan entre las historias Xuthal del crepúsculo (La Sombra Deslizante) y Una bruja nacerá .[3]
En enero de 2016, Funcom anunció que estaba trabajando en Conan Exiles, un juego de supervivencia en un mundo abierto basado en la marca Conan el bárbaro. El juego lanzado en Steam PC Acceso Temprano el 31 de enero de 2017 y lanzado en Xbox One como parte del programa Game Preview en agosto. Al final del mes, Funcom se asoció con Koch Media / Deep Silver, que maneja la venta minorista física para las tres plataformas desde el lanzamiento completo[4]
El 27 de abril de 2018. Spike Chunsoft and H2 Interactive se reveló que lanzarán Conan Exiles de forma digital y en tiendas minoristas en Japón, Corea y varios otros territorios en Asia. En Japón, Spike Chunsoft lanzó una versión separada de PlayStation 4 para descarga digital y en tiendas minoristas en todo Japón el 23 de agosto de 2018, llamada Conan Outcasts.
"
¡Conan Exiles es el juego de supervivencia de mundo abierto ambientado en el brutal mundo de Conan el Bárbaro!
Survive. Construir. Dominar.
"
~ Funcom Forums
"
You are an Exile, one of thousands cast out to fend for yourself in a wasteland swept by terrible sandstorms and besieged on every side by Enemies. Here you must fight to survive, build and dominate.

Hungry, thirsty, and alone, your first battle is against the harsh environment. Grow crops or Hunt animals for food. Harvest Resources to build Weapons and Tools. Build a shelter to survive. Ride across a vast world and explore alone, or band together with other players to build entire Settlements and Strongholds to withstand fierce invasions.

When strong enough, march into battle and wage war against your enemies to dominate the Exiled Lands. Sacrifice enemy players on the altars of the gods and shift the balance of power your way. Unleash your fury in savage, fast-paced combat and execute bloody and bone-crushing attacks that will see heads rolling and limbs flying.

Survive. Build. Dominate. Play alone in single-player mode, or forge alliances and make enemies online on both public and private servers. Will you dominate the Exiled lands, or will your enemies sacrifice you on the altar of their god?

"
~ Steam
| | | |
| --- | --- | --- |
| " | Conan Exiles is one of our most international releases ever and that can only be achieved with strong, local partners. | " |
| | ~ Rui Casais (CEO)[5] | |
Interface and subtitles are supported for all of the following languages. Available languages as listed[6] on Steam:
English (Full audio supported)
French
German
Spanish
Japanese
Korean
Polish
Portuguese-Brazil
Russian
Simplified Chinese
Traditional Chinese
Italian (Added on release)[7]
Taken from the Official Website:
Taken from the Official Steam Store:
GPortal (Server Hosting and maintenance)
Pingperfect (Parternership, 70 Player Server Provider and Renting)
Official servers are maxed at 40 players to ensure server stability, where private servers may set it up to 70.
Denuvo Anti-Tamper (anti-piracy protection, 3rd-party DRM).
BattlEye (anti-cheating measure), which is required for Official servers.
Wine compatibility (Server Configuration tool for eg. Linux).
Rcon compatibility (Remote Control).
See also: Guide.
Thether distance will properly not get limited. This is mostly a UE4 limitation. It is definitely not possible for consoles, because of memory constrains.[8]
DreamWorld Technology (for the backend/servers).
NVIDIA GameStream (TV gameplay at up to 4K HDR).[10]
Conan Exiles was released on May 08, 2018 and is no longer available to pre-order. There are different pre-order incentives for digital and retail versions of the game.
The Digital pre-orders, as well as existing owners of the Early Access or Game Preview version, will receive an in-game Conan's Royal Armor.
The Physical pre-orders will receive an in-game Conan's Atlantean Sword, limited to Day One Edition of the game. The Day One Edition also contains a printed map of the Exiled Lands.
Limited Collector's Edition
[
edit
|
edit source
]
The Limited Collector's Edition depicted above, includes the following:
15 cm polyresin figurine of Conan modeled after Conan from the Conan Exiles cinematic trailer.
Full-color custom print comic book which tells the story of Conan on one of his adventures in the Exiled Lands.
Three Conan soundtrack CDs featuring the music from Conan Exiles as well as Age of Conan: Hyborian Adventures and Rise of the Godslayer.
Full-color print artbook with production artworks the developers used to guide their vision for the game.
Full-color printed map of the world of Conan Exiles.
Six digital Conan comic books from Dark Horse Comics, featuring the entire "A Witch Shall Be Born" story arc.
Digital pen-and-paper Conan RPG rulebook from Modiphius.
"The Coming of Conan" eBook illustrated by Mark Schultz.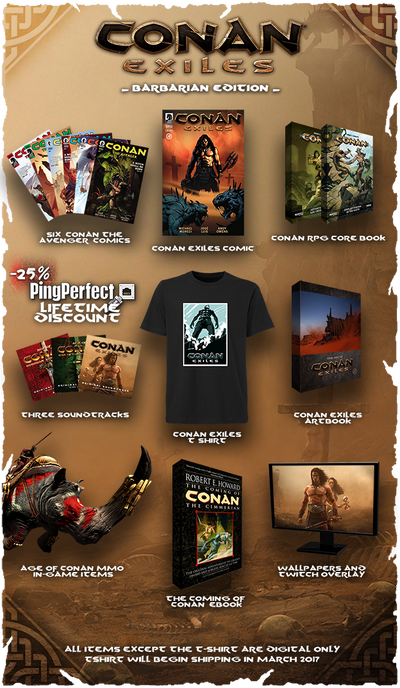 The Barbarian Edition is a special installment of the game. It is only available in English and includes:
Full Conan Exiles game
Conan Exiles Digital Comic Book
A 16-page, custom made, full-color digital comic book created in collaboration with Dark Horse Comics. The comic book tells the story of Conan on one of his adventures in the Exiled Lands.
'The Coming of Conan' eBook.
Collected in this 496 pages eBook volume, profusely illustrated by artist Mark Schultz, are Howard's first thirteen Conan stories, appearing in their original versions – in some cases for the first time in more than seventy years – and in the order Howard wrote them.
Modiphius Conan Role-Playing Game Digital Core Book
This is Conan roleplaying as Robert E. Howard wrote it – savage pulp adventure battling ancient horrors in the Hyborian Age. This beautiful 368 pages full-color digital RPG book contains everything you need to play the popular pen and paper Conan RPG developed by Modiphius. Also included is a 50% discount to 'The Jeweled Throne' optional digital supplement book.
Age of Conan, Rise of the Godslayer, Conan Exiles Soundtracks
Listen to hours of amazing music created by the award-winning composer Knut Avenstroup Haugen. The critically acclaimed original soundtracks for Age of Conan and its expansion Rise of the Godslayer are sure to put you right into the Conan mood. The Conan Exiles soundtrack currently has two songs, but seven more will be released within the next few months.
Conan Exiles Digital Artbook
Go behind the scenes and discover some of the incredible production artworks developers used to guide their vision of the Exiled Lands. Concept art, renders, interface mockups, and more will give you a unique glimpse into how the visuals for Conan Exiles came to be.
In-game items for use in the Age of Conan MMO, including 7-day membership
Items not for use in Conan Exiles.
Before Conan Exiles, Funcom released the critically acclaimed and award-winning massively multiplayer game Age of Conan and after eight years the free-to-play game is still going strong. Included in the Barbarian Edition are several items you can use in Age of Conan: Savage Rhino mount (a very fast mount with no level or riding requirements), Exile title, Survivalist's Tools (increases the chance to find rare resources when gathering), Major Rune Stone of the Exile (30% critical damage for 8 seconds every time you make a critical hit, and also provides +25% Mastery (PvE AA) XP and +10% Prowess (PvP AA) XP passively). If you're a new player, you also get a 7-day membership!
Conan Exiles Twitch Overlay
Style up your Twitch stream with this custom Conan Exiles Twitch overlay. The overlay frames your stream perfectly and boosts the Conan vibe with about one hundred percent.
A collection of high-resolution Conan Exiles wallpapers, turning your computer desktop into a shrine for the greatest fantasy hero of all time!
Comics, eBook, Modiphius RPG book, and Server Discount must be redeemed at third-party websites. To obtain your Barbarian Edition content, please click the 'Barbarian Edition' button on the main menu of the game. Your Steam web browser will open and take you to a web page where you can enter your e-mail address to receive your unique codes and information on where and how to get the content.
Downloadable Content (DLC)
[
edit
|
edit source
]
Listed in the left sidebar of the wiki under Conan Exiles Links, along with unofficial links.
See also: Useful links.
| | | |
| --- | --- | --- |
| " | Conan Exiles has brutal combat where you can cut off limbs and heads of human opponents and blood is shown frequently. Players may choose to play the game with either no, partial or full nudity enabled. This is possible in both single and multiplayer. | " |
| | ~ Steam | |
| | | |
| --- | --- | --- |
| " | The exact details of how Conan Exiles and Age of Conan will connect are not decided yet, but it is our intention to cross promote and encourage players from each game to try out our other games, especially for games within the same IP. | " |
| | ~ Answer on Investors QA feed.[20] | |
The developers have not mentioned details on ties between Conan Exiles and Age of Conan yet. See above quote.
Italian was not shown on Steam until after May 9.[21]
Conan Exiles made back its initial development cost during its first week in sales. However, that does not mean that all the money made after that is pure profit, nor that all of it is funneled back into the game. Some of the money was put into Conan Exiles when the developers saw it was a success, meaning they extended the development time and were able to hire more people.[22]
See also: Official Funcom YouTube and Steam for more media.