Chicken
Tell someone they are chicken

Stats

Type
Taunt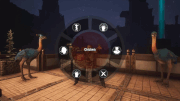 Description
[
]
You flap your arms in an impression of a chicken, signalling to your foes that you believe they are scared.
How to Obtain
[
]
Location: TeleportPlayer -229555.171875 -118126.320313 -2541.609619
From a book, on the floor outside of a hut - the hut is North of the Mounds of the Dead. There are three ghosts periodically performing the mote.
Media
[
]