See also: Downloadable Content.
This DLC bundle has been discontinued as of March 7, 2019.
List of items
[
]
The Barbarian Edition was a special installment of the game, released January 31, 2017. It was only available in English.
It included:
Full Conan Exiles game (Standard Edition)
Conan Exiles Digital Comic Book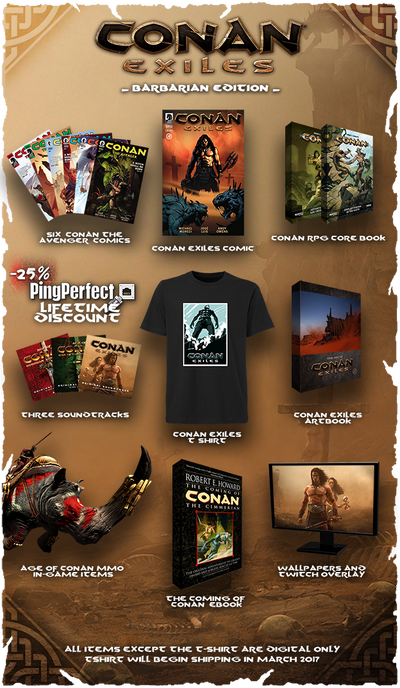 A 16-page, custom made, full-color digital comic book created in collaboration with Dark Horse Comics. The comic book tells the story of Conan on one of his adventures in the Exiled Lands.
'The Coming of Conan' eBook.
Collected in this 496 pages eBook volume, profusely illustrated by artist Mark Schultz, are Howard's first thirteen Conan stories, appearing in their original versions – in some cases for the first time in more than seventy years – and in the order Howard wrote them.
Modiphius Conan Role-Playing Game Digital Core Book
This is Conan roleplaying as Robert E. Howard wrote it – savage pulp adventure battling ancient horrors in the Hyborian Age. This beautiful 368 pages full-color digital RPG book contains everything you need to play the popular pen and paper Conan RPG developed by Modiphius. Also included is a 50% discount to 'The Jeweled Throne' optional digital supplement book.
Age of Conan, Rise of the Godslayer, Conan Exiles Soundtracks
Listen to hours of amazing music created by the award-winning composer Knut Avenstroup Haugen. The critically acclaimed original soundtracks for Age of Conan and its expansion Rise of the Godslayer are sure to put you right into the Conan mood. The Conan Exiles soundtrack currently has two songs, but seven more will be released within the next few months.
Note: These soundtracks may now be found on Spotify.
Conan Exiles Digital Artbook
Go behind the scenes and discover some of the incredible production artworks developers used to guide their vision of the Exiled Lands. Concept art, renders, interface mockups, and more will give you a unique glimpse into how the visuals for Conan Exiles came to be.
In-game items for use in the Age of Conan MMO, including 7-day membership
Items not for use in Conan Exiles.
Before Conan Exiles, Funcom released the critically acclaimed and award-winning massively multiplayer game Age of Conan and after eight years the free-to-play game is still going strong. Included in the Barbarian Edition are several items you can use in Age of Conan: Savage Rhino mount (a very fast mount with no level or riding requirements), Exile title, Survivalist's Tools (increases the chance to find rare resources when gathering), Major Rune Stone of the Exile (30% critical damage for 8 seconds every time you make a critical hit, and also provides +25% Mastery (PvE AA) XP and +10% Prowess (PvP AA) XP passively). If you're a new player, you also get a 7-day membership!
Conan Exiles Twitch Overlay
Style up your Twitch stream with this custom Conan Exiles Twitch overlay. The overlay frames your stream perfectly and boosts the Conan vibe with about one hundred percent.
A collection of high-resolution Conan Exiles wallpapers, turning your computer desktop into a shrine for the greatest fantasy hero of all time!
Not listed:
Barbarian Edition T-shirt
A t-shirt displaying Conan. See the subsection for more information.
Six 'Conan the Avenger' comics
Dark Horse comics. Note: The codes for these had to be redeemed by the end of 2018.
Comics, eBook, Modiphius RPG book, and Server Discount must be redeemed at third-party websites. To obtain your Barbarian Edition content, please click the 'Barbarian Edition' button on the main menu of the game. Your Steam web browser will open and take you to a web page where you can enter your e-mail address to receive your unique codes and information on where and how to get the content.
Barbarian Edition T-shirt
[
]
This edition also included a Barbarian Edition T-shirt for a limited time, as the service was eventually discontinued.
Funcom shipped out these T-shirts at the end of May 2018, but there are still parts of the Conan Exiles community still missing a T-shirt. In most cases this is simply because they have not received your address and do not know where to ship a shirt. Or maybe something went wrong with the claim process.
T-shirts have usually been sent out in batches, meaning it might take a while for it to arrive, but it should not take more than 6 months. If you bought a T-shirt before the service was discontinued and can prove it with screenshots of the confirmation e-mail, you are still eligible to have a t-shirt sent to you. You may need to provide additional details for this to happen. For inquiries, contact Jens Erik Vaaler (preferably using a private message on the Funcom Forums).[1]
Media
[
]
References
[
]